Back to staff directory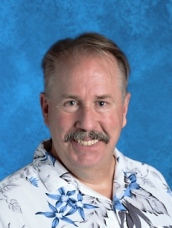 Darren graduated from the U of L in 1998 with a B.A. (Art) & B.Ed. (Art & CTS) and began working for Palliser School Division the following fall. He has worked for Palliser ever since; teaching Art and other subjects at Kate Andrews High School & R.I. Baker Middle School in Coaldale. Last year he had the time of his life teaching Art & Drama to grade 1-6 at the Coalhurst Elementary School.
He and his amazing wife Stacey have been married for 28 years and have three girls and a boy aged 14-24.
Darren joined the Army Reserves as a student and retired with 19 years of military service in 2014 as an officer of Lethbridge's 20th Independent Field Battery.
On top of being a teacher, an artist, an actor, a soldier, his favorite duty is as a husband & father.
He is thrilled to be back with his R.I. Baker family this Fall teaching Art & Gr. 5 Social Studies.