Back to staff directory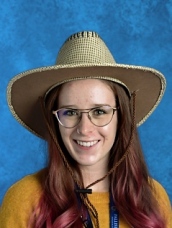 Hello there,
My name is Sydney Cleland and I am heading into my third year of teaching here at RIBMS. I absolutely love teaching at Baker, and getting to come back to the community in which I spent a lot of my youth. I teach grade 6 LA as well as grade 6 foods! I likewise run the RIBMS dance team.
I grew up on a farm in Taber, but moved to Lethbridge 6 years ago to complete my degrees in English and Education at the U of L! I grew up dancing in Coaldale at Dance Images and I love that I get to bring my dance background to Baker. Some of my favourite things to do are dance (of course), watch hockey and baseball (and sometimes attempt to play myself), read and write, hang with my family and spend time outside exploring!
I am beyond excited to have another phenomenal year with the most amazing group of students!
Please feel free to stop by and say hi, or shoot me an email if you need anything! I am excited to get to know you!
Miss. Cleland.